About Us
Manually manufacturing and packaging bulk products are difficult and time consuming tasks. Considering the importance of time and faster production and packaging, we, Sanket Packseal Machines Pvt. Ltd., are introducing an advanced line of machines.
Our company is a contributor to the Indian Industry as a progressive manufacturer of PVC Preform Cap Label Making Machine, Three Side Seal Pouch Making Machine, Surgical Gloves Packing Machine, Print Roll to Registered Half Cut Machine and others. All over India, these machines are delivered and largely appreciated for running successfully without requiring much maintenance.
Since the beginning, our company has been prioritizing quality, improving product design and charging competitive prices for the range. Requirements of buyers from Food, Cosmetics, Garments, Surgical and other industries are met in the best manner as we deliver them quality-built and affordably priced machines. Years after our company started functioning, it converted with trademark registration to M/s Sanket Packseal Machines Pvt. Ltd.
Why Choose Our Machines?
Our machines come with world class Servo Motors and Drives. We have sophisticated production unit, installed with machines of latest technology. Using these, we produce user friendly machines that operate efficiently and reliably. We feel extremely proud to introduce in the Indian market, Servo Package In Pouch and High Speed Label Machines.
Men Behind Successful Company Operations
Mr. Kumar Kharat, Chairman of Sanket Packseal Machines Pvt. Ltd. started his career in the year 1986. Right after completing his studies, he started his career. During his service, he was greatly impressed by the progressing Packaging Market. The growing requirement of Packaging Material during that time with limited availability of equipment, gave him an idea of establishing his own business and manufacturing packaging equipment to aid manufacturers indulge in quality packaging of their produce. With his field experience, he started developing simple in operation, high speed machines. It is due to his sheer hard work in fabrication of advanced machines that our company has been given the tag of Quality Machines Supplier. The company is currently being handled by Mr. Sanket K. Kharat (Director), who is leaving no stone unturned in getting the company wide market prominence.
Customers Satisfaction
We are greatly satisfying clients with our:
High end machines
Timely delivery of machines
Ethical business dealings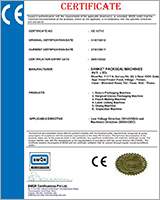 Read More